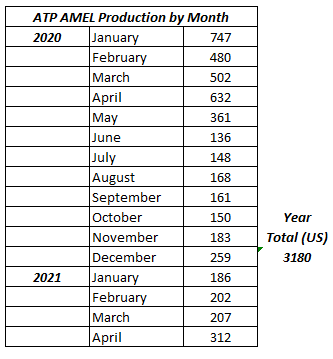 Some things you just can't get back. Like time. And time is what it takes to train pilots.
About mid-way through 2020, as the country managed its responses to COVID-19, most regional airlines stopped hiring new pilots due to reductions in the need for pilots as airline service needs were significantly reduced. Without an actively flying public, fewer flights were needed, and that meant fewer pilots were needed. Most of these pilots were put on reduced hours or even given time off.
While our country is beginning to return to some higher volumes of flight activity, we still haven't reached the same production level of ATP certificates that we were seeing approximately one year ago at this time.
When we look at the numbers month-to-month in 2020 and this January, we see that by May and June the production levels of ATP certificates had dropped precipitously.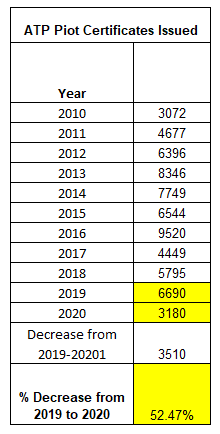 The dropoff very predictability started when in the midst of the country's lockdown efforts to curb the spread of COVID-19 and as airlines (mostly regional airlines) stopped conducting new hire classes during which pilots complete their ATP certification (and their ATP CTP course to be eligible for their ATP certification) along with their type rating.
This reduction in 2020 that currently continues, but shows some slight signs of improvement, results in a partially lost year of ATP pilot certificate production.
When we compare it to years in the past decade, we see the 2019 to 2020 production as a 52% drop in ATP certificate issuance.
This is further seen in the recently released FAA knowledge test statistics, where we see that ATP knowledge test volume fell 56% from 2019 to 2020.
The good news from this chart is that we don't see the same levels of the dropoff in other FAA knowledge tests, with a more nominal approximately 10% dropoff being seen. This is a strong indicator that training at lower-level certificates continued through the effects of the COVID-19 responses and that interest in continuing pilot training remains strong in spite of the restrictions that were in place. These pilots continue to progress through the training pipeline and were able to keep moving forward and will be ready to enter into training at airlines that would lead to their ATP certification as training ramps up again.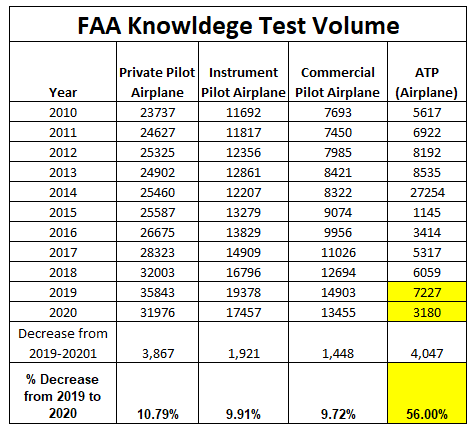 Why is this a problem many will ask? Well, the reality is that we have lost a significant portion of ATP pilot production through the last year.
The first response to this by many is to simply say, "train more when we need them then," but this is an imperfect answer. Major constrictions such as available simulator resources (needed for a part of the ATP CTP course), instructor resources, and testing (DPE) availability all come together to limit our capacity to some degree. It isn't an immediately increasable resource playing field when it comes to producing more pilots. The result may be that if highly active hiring returns, which some are predicting, our training system may not be able to fully meet the personnel demands of airlines and thus may curb some of the recovery to full flight volumes we all would like to see.
The infrastructure requirements for pilots to complete ATP certification are such that scaling of this training pipeline is more challenging than lower-level certificates and ratings. Monitoring this and modeling it will be critical to making up for any expanded needs for training and hiring of qualified pilots in the upcoming years.