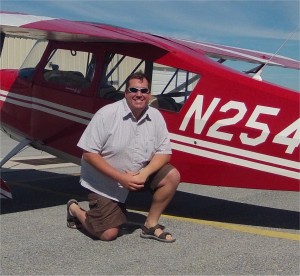 Jason Blair is an active single and multi-engine instructor and FAA Designated Pilot Examiner with 5,000 hours total time and 3,000 hours instruction given. In his role as Examiner, over 1000 pilot certificates have been issued. He writes for multiple aviation publications and actively works within the general aviation industry.
He got and early start in aviation. He started his flying experience at the age of 15, soloed at 16, and received his private pilot's certificate at 17.
While he pursued both undergraduate and master's degrees from Western Michigan University in non-aviation fields, he continued his aviation passion through flight training at local FBOs, obtaining his instrument, commercial, and instructor certificates. He is an active multi- and single-engine CFI, is a NAFI Master Flight Instructor and also a FAA Designated Pilot Examiner for both part 61 and part 141 training providers.
He flies general aviation aircraft for much of his personal and business travel. He has both undergraduate degrees in Human Resource Management and International and Comparative Politics and a master's degree in Development Administration from Western Michigan University. He has served as the Executive Director of the National Association of Flight Instructors, represented the flight training community on a variety of committees including but not limited to the FAA's Runway Safety Council, the General Aviation Joint Steering Committee, the TSA Aviation Safety Advisory Council, NATA's Flight Training Committee, and others. Currently, he continues to work for a variety of companies focusing on flight training regulations, procedures, and safety as a writer and consultant.
Jason grew up in the Upper Peninsula of Michigan and remains an active outdoorsman, enjoying scuba diving, downhill and X-C skiing, snowshoeing, hunting, fishing (both fly-fishing and big lake fishing on Lake Michigan), mountain biking, and golfing.
Disclaimer:
The blog portion of this website and the content of the articles and seminars is the personal content of Jason Blair. It does not necessarily represent the opinions or positions of any of the companies for whom Jason has worked, served as a consultant, or written content. No representations of accuracy, completeness, currentness, or validity of any information on this page is given and Jason Blair shall not be liable for any errors, omissions, or delays in this information or any losses, injuries, or damages arising from the use of the content of this site.