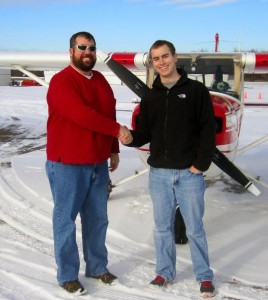 Jason Blair offers practical tests for pilot ratings and certificates as an FAA Designated Pilot Examiner in single- and multi-engine land aircraft.
Tests available include:
Sport Pilot Practical Test (ASEL) – $800.00

Private Pilot Practical Test (ASEL and AMEL) – $800.00
Commercial Pilot Practical Test (ASEL and AMEL) – $800.00

Instrument Pilot Practical Test (ASEL and AMEL) – $800.00

Commercial Pilot Add-On Practical Test (ASEL and AMEL) – $800.00

CFI Initial – $1,200.00
CFI-I / MEI Add-On – $800.00

Checkride Retest – $300.00 for flight-only portion, $400.00 if ground and flight portion required.
Flight Instructor Renewal processing for instructors who have completed a Flight Instructor Refresher Course (FIRC) or meet experience requirements for student pass rate and have not had their CFI certificate expire.
Advanced Ground Instructor / Instrument Ground Instructor processing.
Multi-Engine aircraft in which practical tests are authorized to offer include:
BE-55, BE-56, BE-58-58, BE-95, CE-310, CE-337, CE-340, CE-414, CE-421, PA-23-250, PA-24-24, PA-30, PA-31-325, PA-31-350, PA-34-200, PA-44-180
A fee of $400.00 will be charged if the practical test is not able to proceed at the scheduled time due to:
Missing training documentation
Training requirements
Pre-existing airworthiness discrepancies with the aircraft to be used for the test
Experience requirements
Eligibility qualifications.
If you are scheduling a test and have questions about what documentation is required to qualify for the administration of the practical test please reach out ahead of time. I am more than willing to help review information ahead of time to avoid the inability to proceed with a test as scheduled and finding discrepancies at the last moment.
I also encourage CFIs and applicants to review the following links to help avoid rescheduling:
Applicants Checklist for Practical Tests – Click Here for the Checklist PDF
Airman Testing Questions & Answers – Click Here for the PDF
LOCAL PRACTICAL TEST DISCOUNT: A $100.00 discount will be given to applicants who travel to and have the test completed at the Allegan, MI (K35D) airport.
NOTE: A paper IACRA application that is required due to instructor or applicant causation will incur an additional cost of $50.00.
* Prices as of June 25, 2023.
To contact Jason about scheduling a practical test,
or email at:
[email protected]
or call
269.350.3165
Payment forms accepted include Visa, Mastercard,
Discover, American Express, Cashapp, Venmo,
Zelle, Paypal, Checks, or Cash.