So, the plan to get home looked like this. Unfortunately, the storms to the west moved in on Saturday evening, and by the time we were to leave on mid-morning Sunday, they covered most of the route, so it changed a bunch! In fact, we didn't stop at any of the airports we originally planned to have on the route.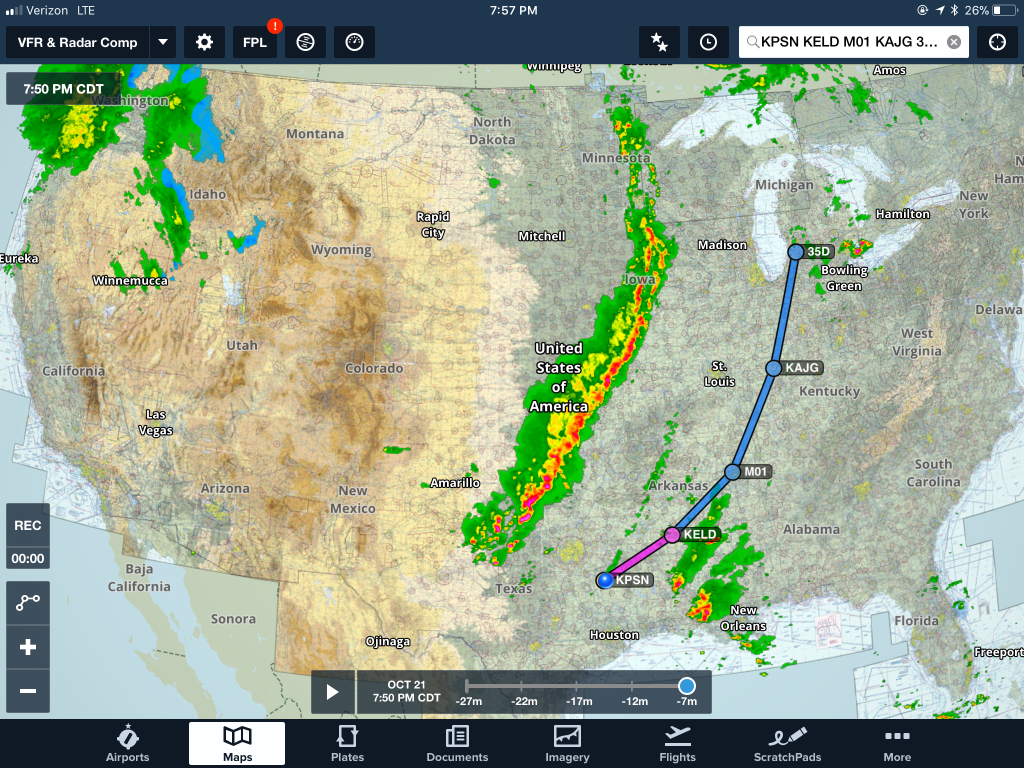 But that doesn't mean that the trip wasn't great, it just became a different adventure than we originally had expected.
While the storms approached, and before we went to see Charlie on Sunday, we flew down via Delta Airlines through the airport Charlie was born at, Detroit, Michigan, and made sure to pick up some highly recommended Texas BBQ to have in our room once we settled into our hotel in Palestine, TX.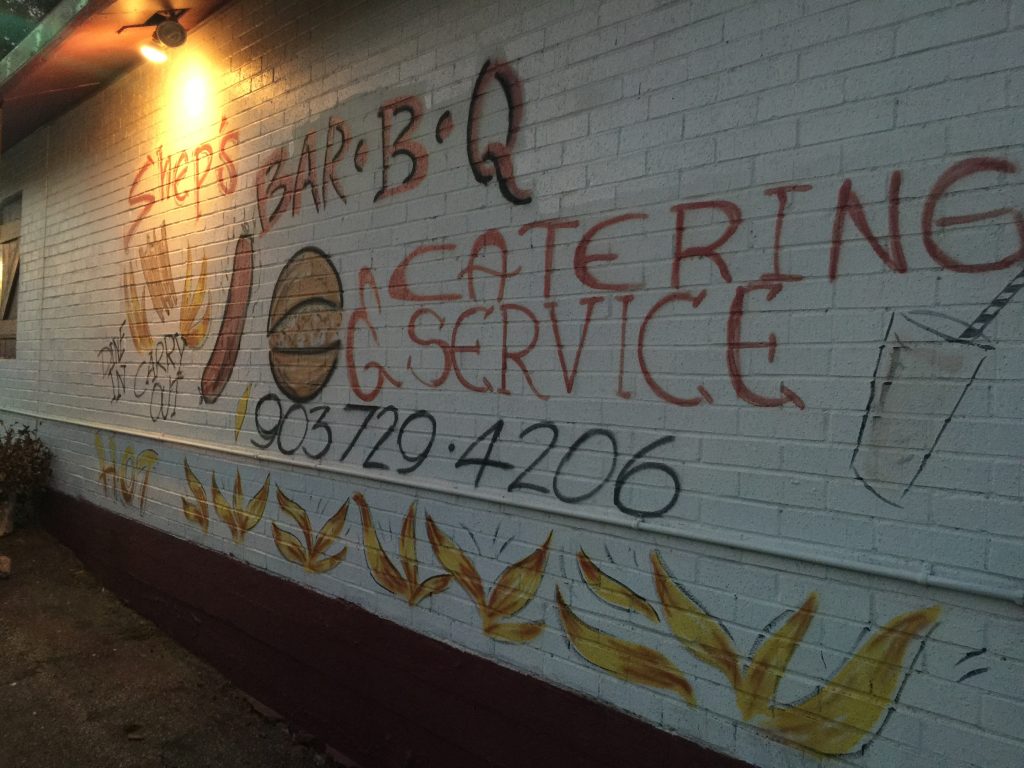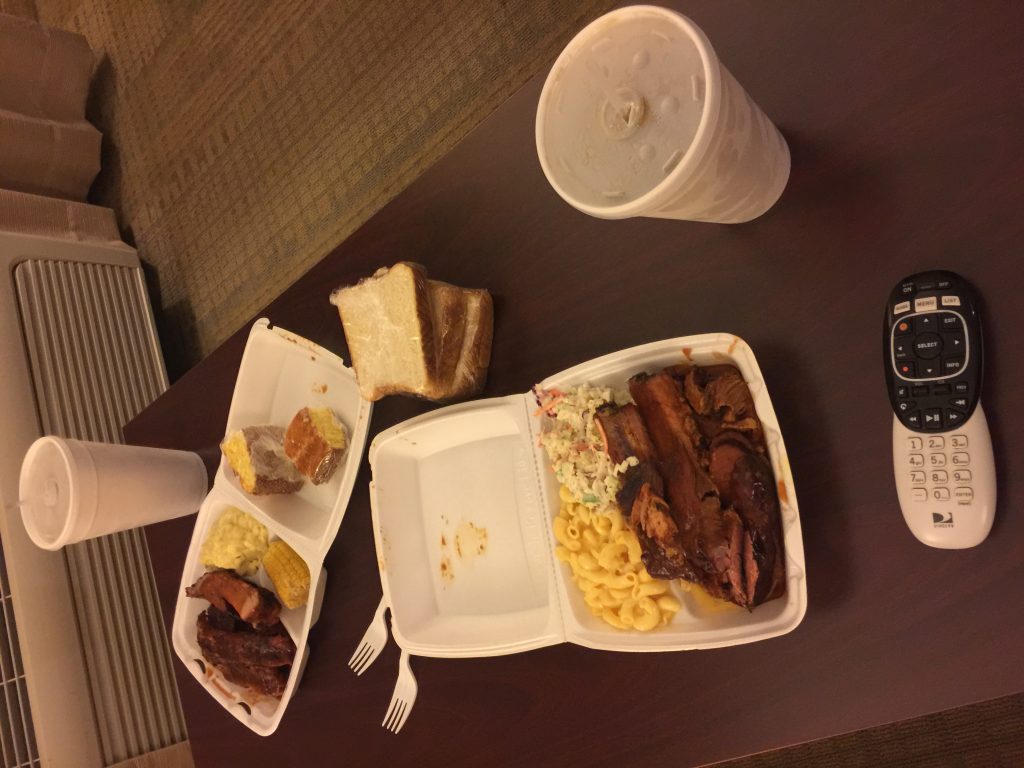 With bellies full of Shep's BBQ's best (ribs, sausage, brisket, hot links, and all the fixings) we called it a night until it was time to meet Charlie in the morning and get on our way.
Afer we "met" Charlie on Sunday, we headed out, beginning the journey together!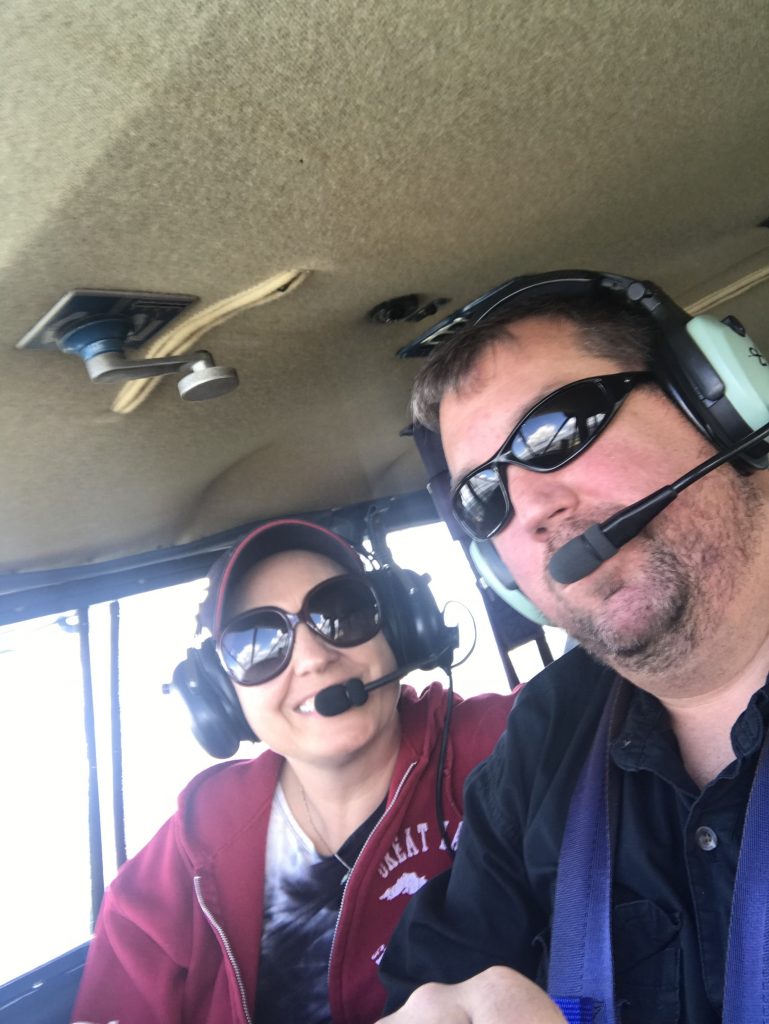 It sure didn't take long to feel at home in the air with Charlie as our ride, our guide, and as our fellow traveller.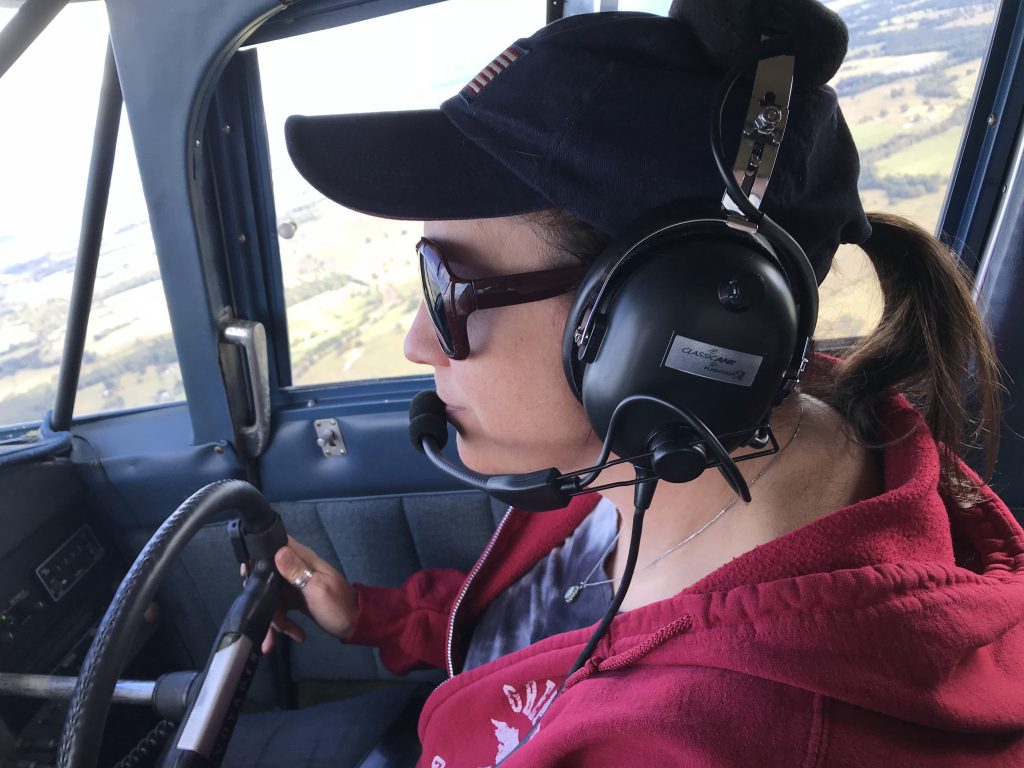 As we flew, Aimee took her turn at the controls for a while, logging some of her first tailwheel time even on the first legs of this trip.
With a strong crosswind from the left, spelling each other off from the tired right leg syndrome helped both of us.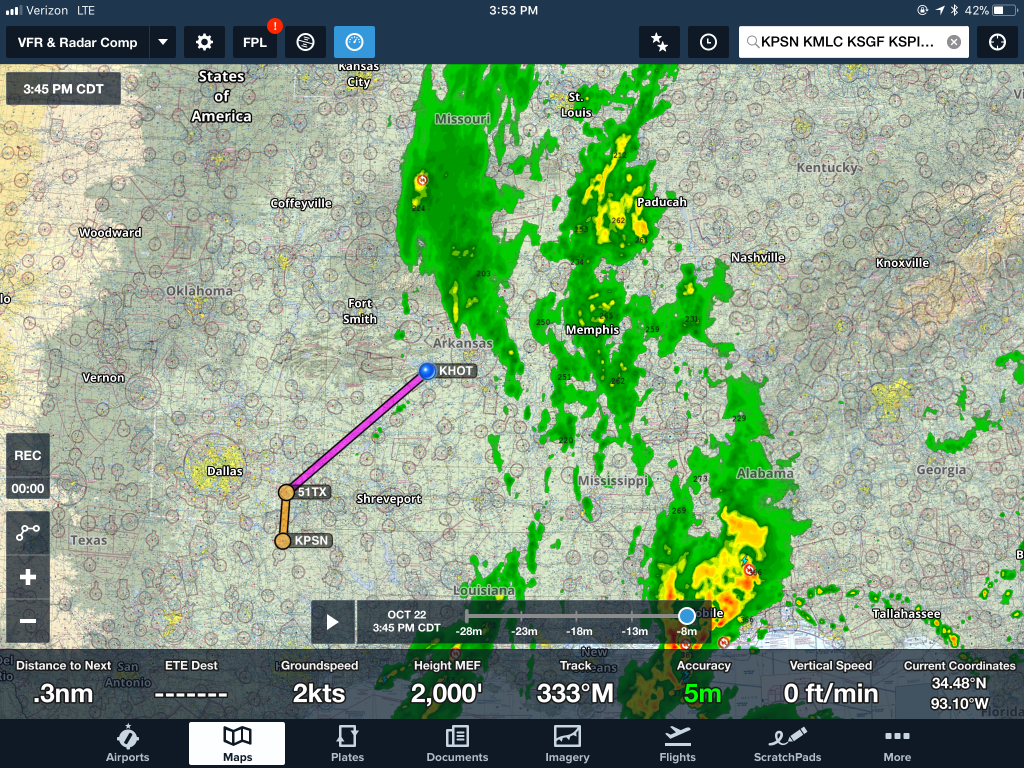 As the ceilings deteriorated and we were getting closer to nightfall, we couldn't really get any further due to the weather. Hot Springs, Arkansas was where we put Charlie to bed for her first night of journies with us.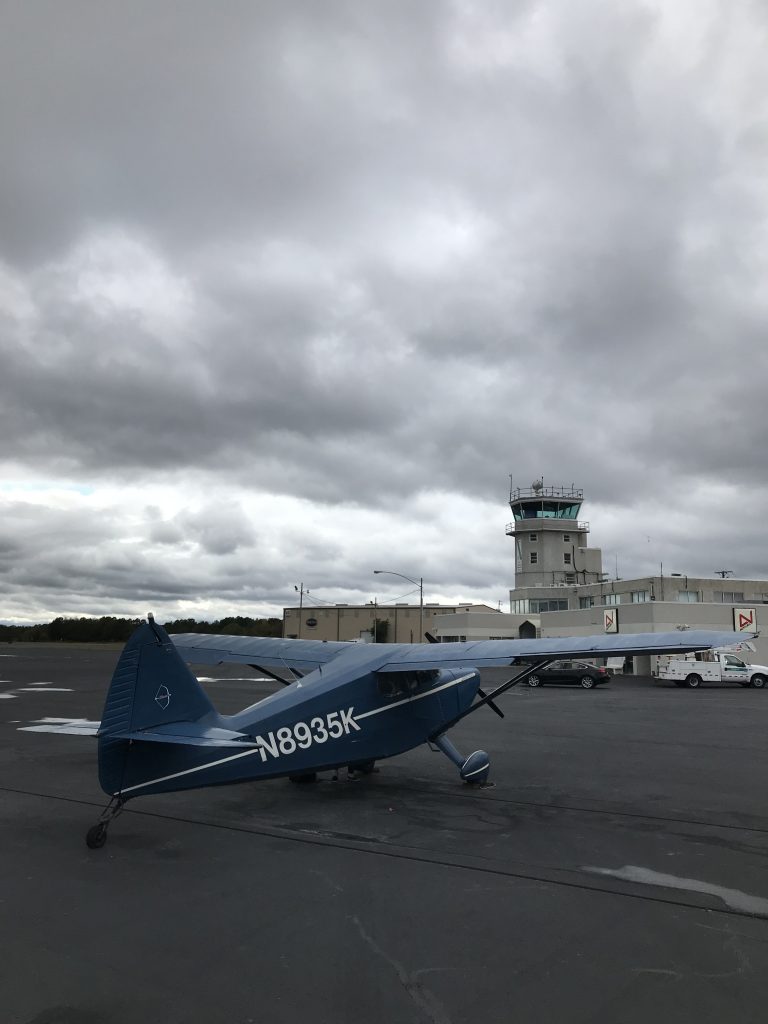 Day two we awoke to clear skies, at least where we were, and managed to have some great flying across the Ozarks as we headed again north and eastward toward home.
We started the second day thinking we would head up to Jeff City and then on to the Quad Cities where we expected to catch up with the weather again.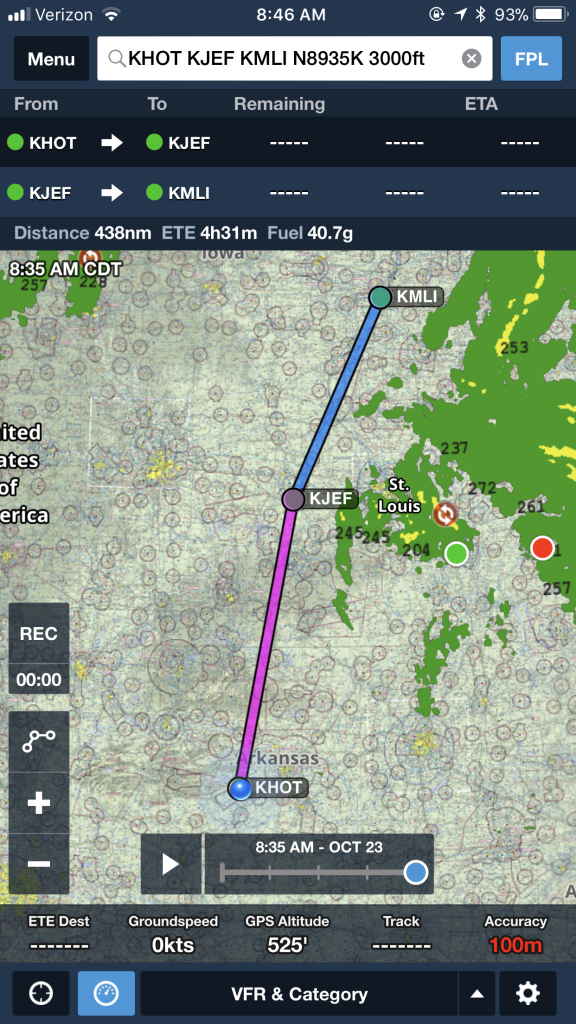 But only about a half hour into the flight an unplanned stop as the coffee caught up with me gave us a stop at a park up in the Ozark mountains.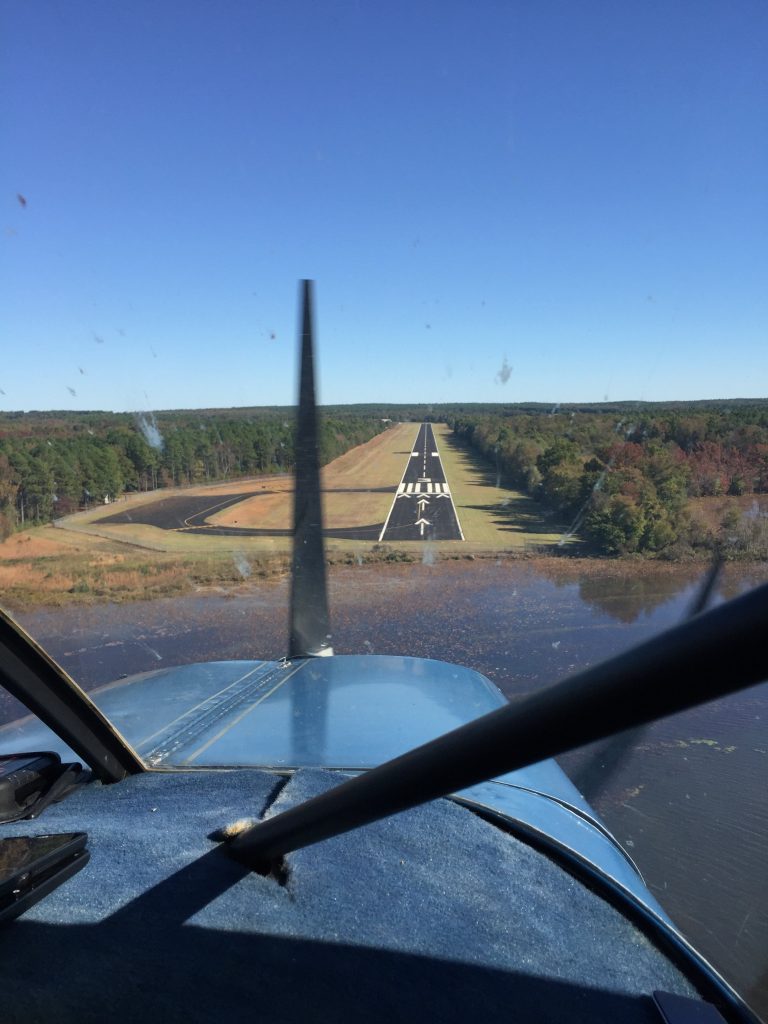 Relieved, we continued on our way. With clear weather ahead, we made it to Fine Country Airport, near Lake of the Ozarks, where we changed our plans again to take advantage of a runway that was more into the wind for a landing as the winds were gusting over 20 knots on the ground.
After this fuel stop, we managed to head a little further east to again catch up with the weather where we ended up calling it a night in Peria because the weather wasn't going to let us get any further again.
Between these stops the flight certainly was scenic!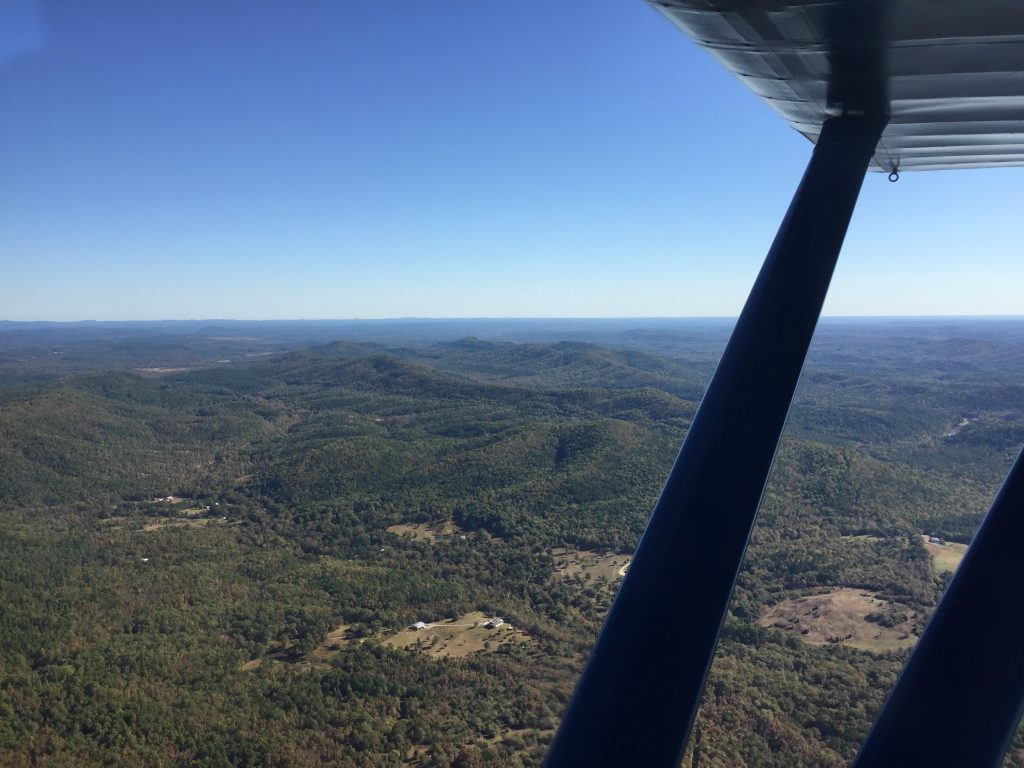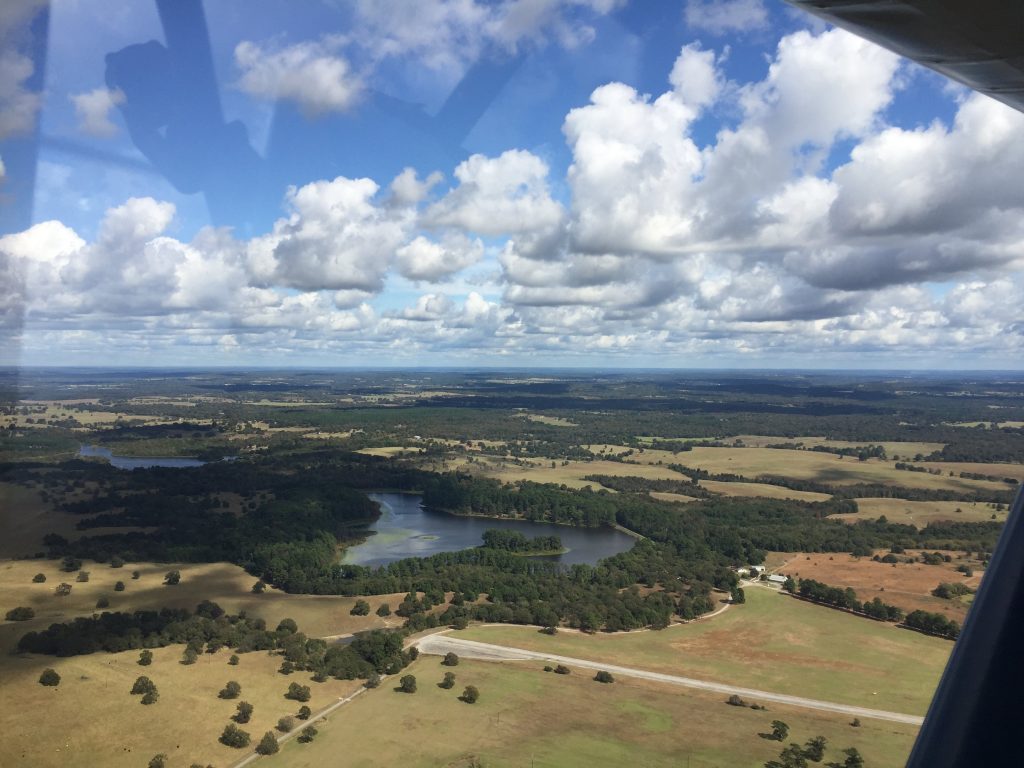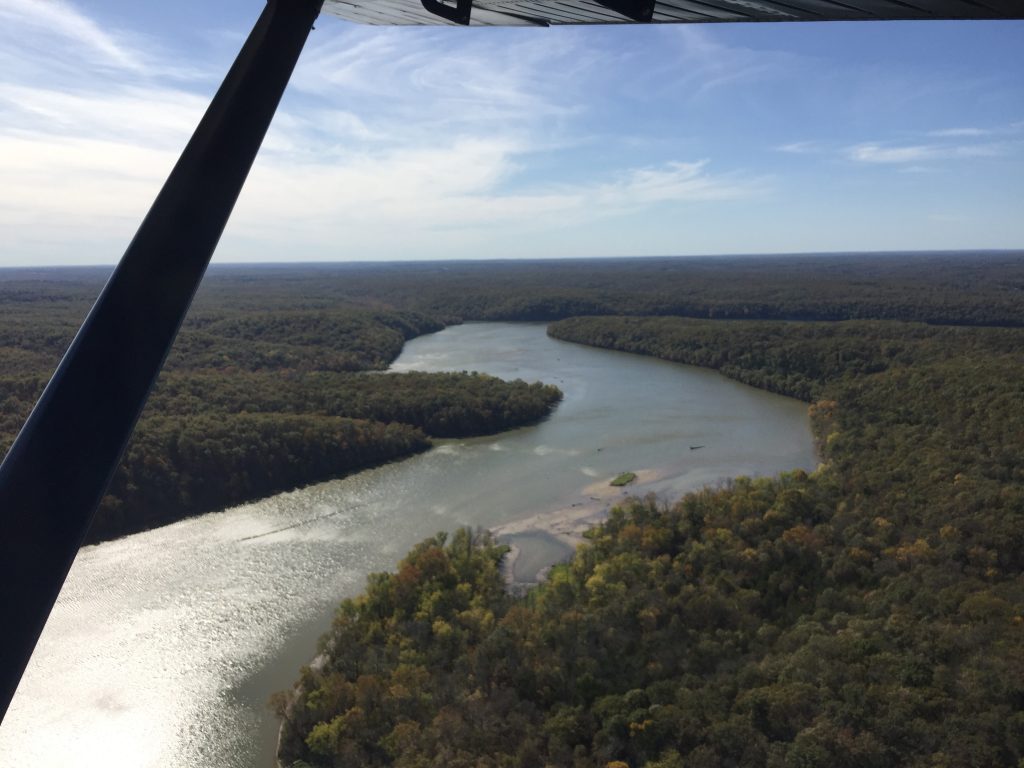 The route to PIA gave us a set of good weather between batches of rain for an uneventful flight that was generally smooth and kept us moving along the way.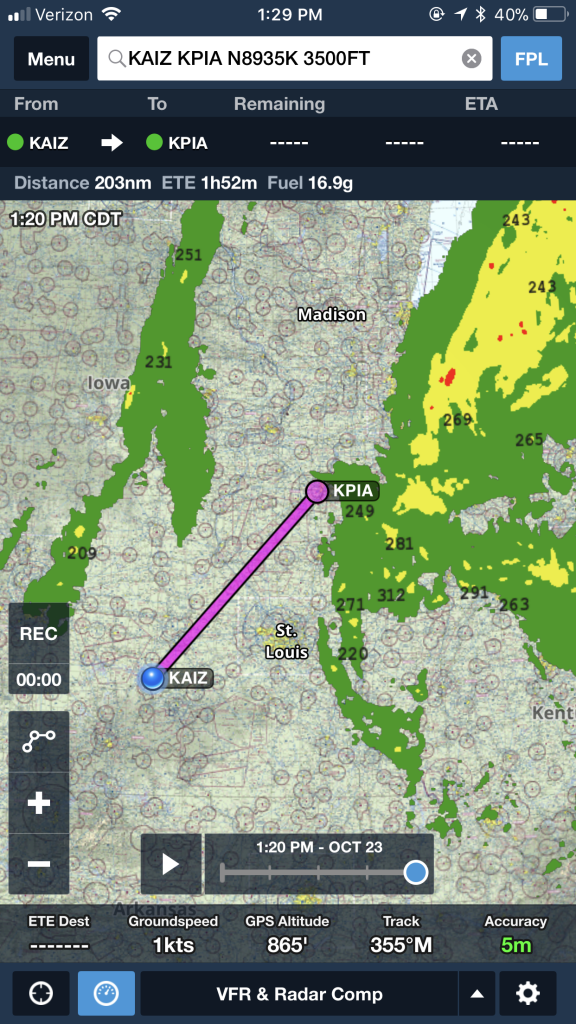 Enroute from AIZ to PIA we ran across a pretty cool little sod runway. I gave it a quick fly-by and thought about a stop, but on close inspection, it looked like a colony woodchucks had been hard at work in the middle of the runway!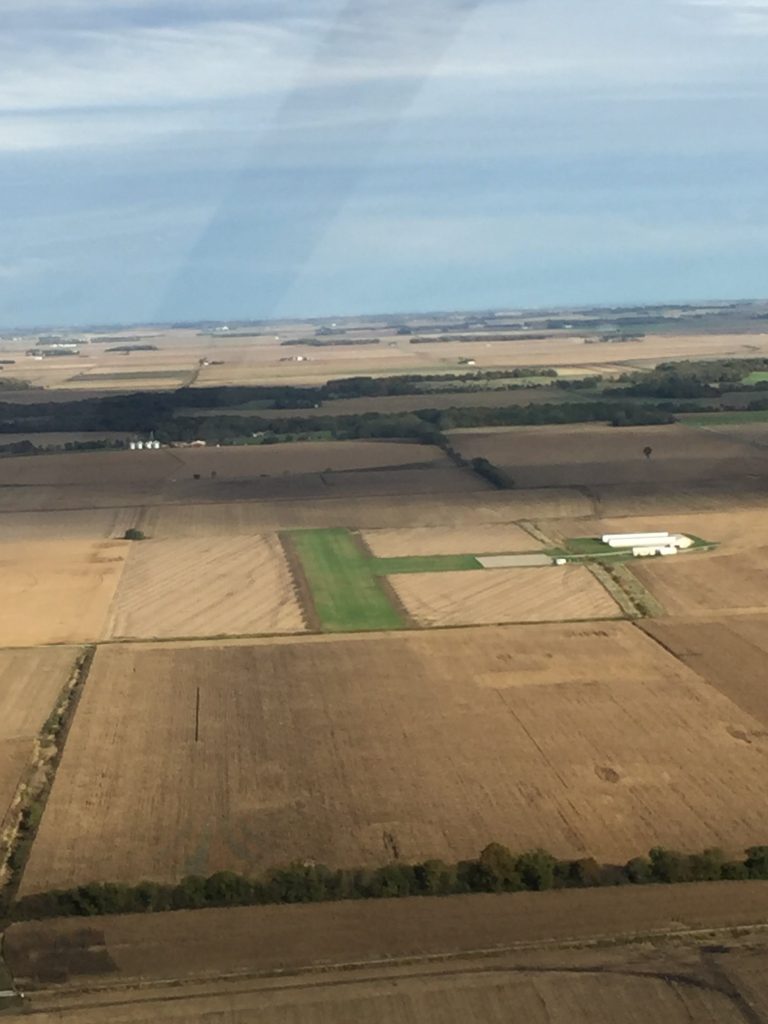 After skipping that landing, we headed the last few miles to Peoria to make a fuel stop. With a check of the weather ahead, we called it a night again in Peoria again!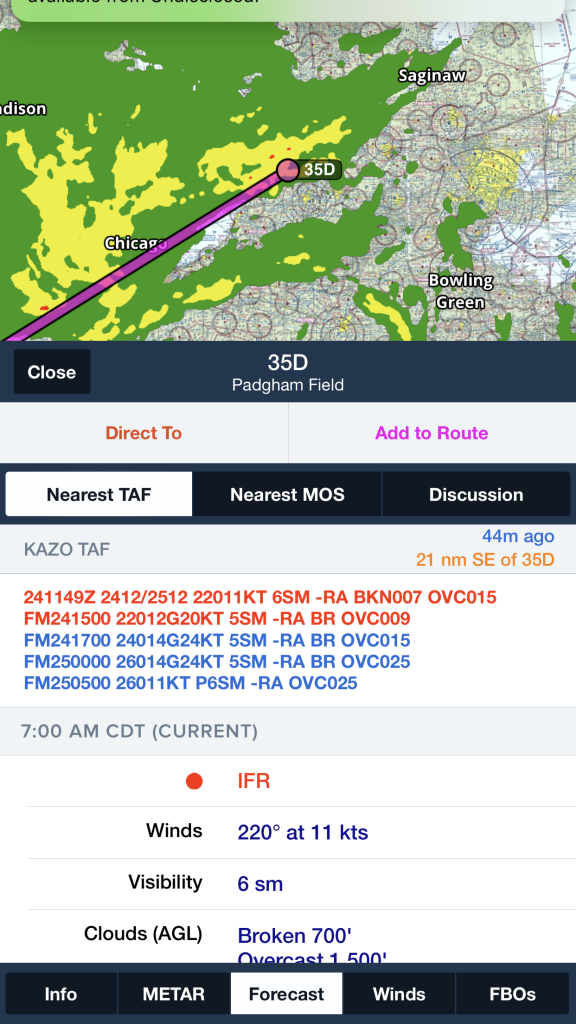 Based on the forecasted weather, this stop would become two nights, which is where currently are writing this blog post. The weather is improving and we are hopeful that we will be off in the morning tomorrow to get Charlie to her new home.
As journey's of this type go, things rarely go as planned. In fact, we have yet to land at an airport we had originally planned to stop at, or even one that we set off on a particular flight aimed at! Hopefully, the next destination will be home and we will land and the first airport that we set out to land at.
The actual route so far that was flown from the track in the iPad is as follows:
10/22/2017
KPSN – KHOT: 2.7 Hours Flight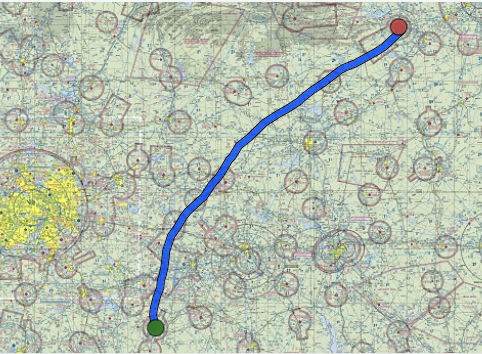 10/23/2017
KHOT – KMPJ: 1 Hour Flight.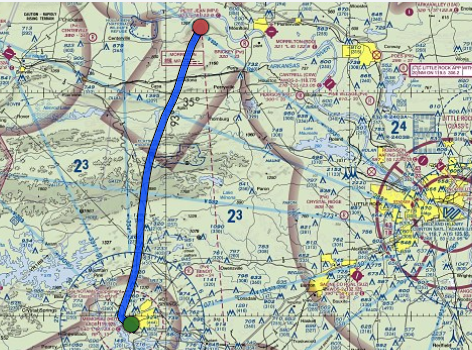 10/23/2017
KMPJ – KAIZ: 2.1 Hour Flight.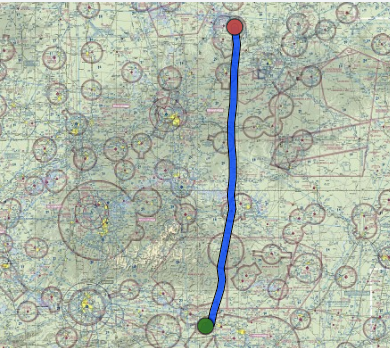 10/23/2017
KAIZ – KPIA: 2.2 Hour Flight.