Each year that the FAA releases statistical data on U.S. airmen certification efforts, I, and probably a very small number of other people in our industry get excited. We dork out over the data and try to parse it in ways that help us understand trends in our industry. If we can understand some of this data, it helps us understand what is happening in our pilot production pipeline.
The yearly data came out about a week ago, earlier than most years, and I have spent the last few days playing with the data and putting it into my own spreadsheets where I track some of the trends. Each year I do this, I like to share some of the data points I think might be interesting to others in the training sector of aviation. So, with that, let's check out some of the data and trends I noted.
Overall Pilot Certificate/Rating Production Remains Strong
Even with many of the challenges we all have experienced in the past two years, overall pilot certificate production remains strong.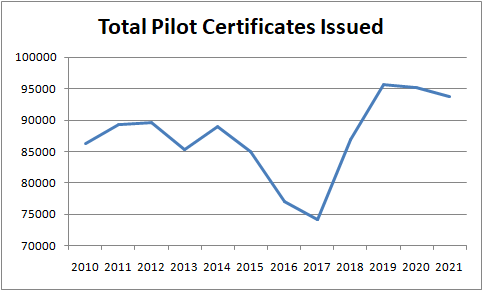 When we look at specific ratings, the primary ones being for Private Pilot, Instrument Ratings, and Commercial Pilot certifications, we see these specific ratings are still continuing to have relatively strong numbers of certificate issuances. In fact, pre-COVID numbers were actually lower than we saw even during COVID restriction affected time periods.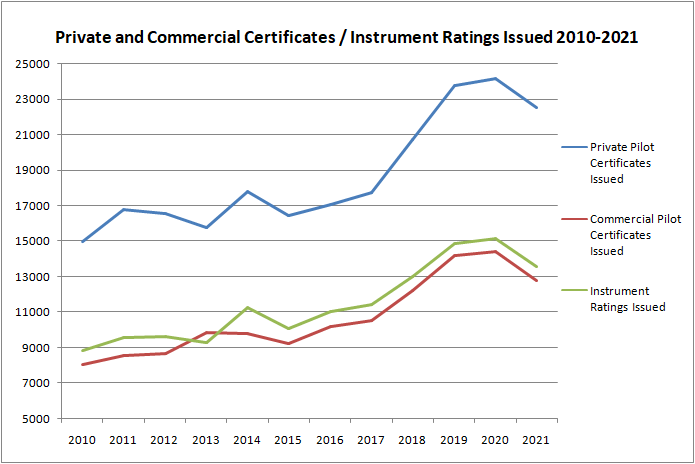 Continue reading →