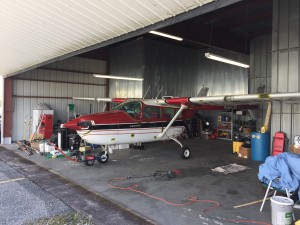 Ok, so a slight change of plans.
The plane is mostly good go to, but we are now going to bring it up to Michigan for the few weeks before our planned departure to deal with the minor discrepancies I found today.
In addition to a hangar owner (and previous aircraft owner) who would really like to have his hangar free again since he is working to sell it and the months that this plane has sat in it after he sold it waiting for delivery are stopping him from selling it, it honestly looks like it makes the most financial and logistical sense.
With a project 4.2 hours flight back to Michigan from here, the flight will burn less than $500 in gas on the way home. If we leave the plane here, we will have to have the previous owner coordinate with an unknown maintenance shop fix the discrepancies and hope it all works out. The logistics of this could certainly get troublesome and with an unknown maintenance shop, who knows what "other things" they might think the plane needs and ransom its airworthiness.
Also, if we launch from here, I will need to get back down here on another commercial flight and will need at least another overnight in a hotel. This combination alone would be more expensive than the gas to get it back to Michigan where the broker who is selling it can have his own maintenance shop fix the discrepancies under a controlled environment. It makes sense to me.
Wish I had thought of that possibility this morning instead.
For some reason, as I got ready to leave the hotel in Orlando, I had a nagging feeling I should take my overnight clothes bag with me in case I didn't need to return to the hotel. But why would I do that I thought? I was scheduled to fly out commercially tomorrow from Orlando. Next time I will trust my gut.
But instead, I left my stuff there, left the hotel about 8 this morning and drove to Jacksonville, did the plane checkout, then hatched the new plan. But my stuff was still in Orlando, so back in the car I went to make the 5 1/2 hour round trip drive to Orlando and back to Jacksonville.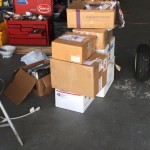 Then when I got to Jacksonville, I went to the plane, packed all the boxes that go with it of logbooks, extra seats, etc., and then repositioned the aircraft out of the previous owners hangar to an FBO that will be able to pick me up in the morning from a new hotel room in Jacksonville for the night to leave as soon as I can in the morning.
Oh yeah, and I had to cancel one night of hotel in Orlando and swap it to Jacksonville. And convince National Rental Car that I wasn't going to return my rental car to Orlando, but instead to Jacksonville. Also needed to figure out how to get from the Jacksonville International airport where I had to drop my car to the hotel that was near the Jacksonville Craig airport (about 20 miles or so away). Thanks Uber! All this I did while driving along Florida byways and highways.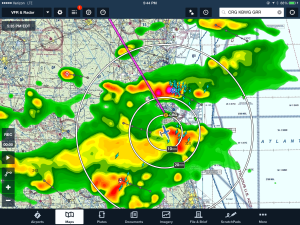 Next time I'll trust my gut about taking my bags with me. Would have saved me at least 6 hours of travel today. Maybe instead of another night here I could have been on the way home already. That being said, it is entirely possible that no matter what I wouldn't have been on the way fast enough to beat some of the weather that was in the area.
Now with a pizza delivered to my hotel room, I'm tired and going to call it a night to launch tomorrow northward to eventually fly a lot further southward. A new plan hatched as we get ready for the eventual longer ferry in a few weeks. Best laid plans are best considered flexible.