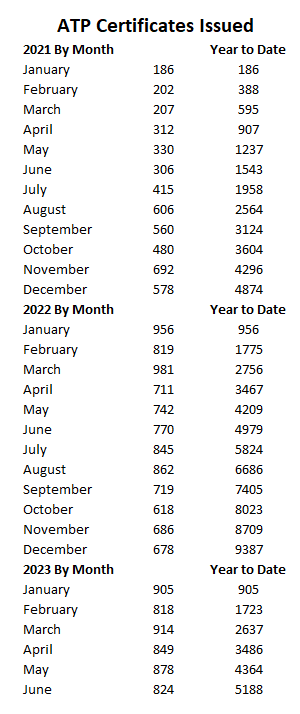 Halfway through the year, the question of how we are tracking when it comes to the numbers of ATP certifications issued for airplane multi-engine pilot certificates. The numerical flow of issuance of these ATP certificates is directly related to how well we are doing at continuing to provide a flow of pilots able to provide service in the airline environment. It is without doubt a data point worth following.
The good news is that we are tracking very closely to the number of issuances, in fact, slightly higher year-to-date as of June than we were in 2022. Considering 2022 was a high-point year in recent history, this means we might be producing as many ATP certifications as our system may allow.
You can see the monthly issuance on a month-by-month basis in the table here to the right. A track of the yearly track as the months go by each year from 2017 through 2023 as of June this year is below and offers further comparison. The chart does show drops in 2020 and 2021 as the system was affected by covid restrictions as one might expect, but also tracking higher in numbers than years previous to 2022.
The production rates seem to be relatively stabilized, perhaps indicating what a maximum potential production rate per month in our current infrastructure might be overall.