The volume of ATP certificates issued in the United States is something that directly relates to our ability to provide pilots for commercial airline operations. As a base certificate requirement, only pilots who meet this certificate level can be employed at airlines, and many cargo carriers, operations. As such, knowing how many of these we issue each year is something that directly helps us as an industry understand our ability to staff these job functions.
This past year, 2022, we generated more ATP certificate issuance in the United States than any recent year; doubling what we have done in either of the past two years and significantly more than what we have issued in any one year in well over a decade.
But is this enough? Well, that's a different question and one we can also contextualize.
First, let's look at the numbers.
Increased Total ATP Certificates Issued in 2022

This past year we saw what appears to be a total of 9387 ATP certificates issued. This outpaces what we have done in recent years, and, in fact, I have been tracking these numbers since 1990 and at no point in that time have we issued more than 9000 ATP certificates in any year. This is kind of a record year.
It is worth noting that in the past couple of years, the lower numbers of issuances were surely affected by the effects of COVID. We see a similar drop in issuance numbers per year in 2009 and 2010 as regulatory changes took effect regarding what requirements needed to be met to qualify for an ATP certificate. Taking these two anomalies out of the averages, we typically issue an average of around 6000 ATP certificates per year, so 2022 is a high point and shows a significant increase in our issuance trend.
Highly active hiring and demand for ATP-qualified pilots is a major factor that has driven the training for and certification of pilots in the past year. Since a large portion of the ATP certificate training and certification is now done at airlines in their initial training processes, the entities needing these pilots are directly affecting the training volume to meet their own employee needs.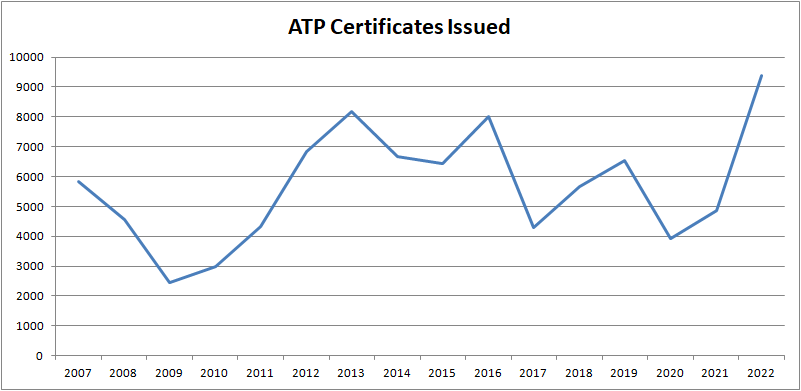 Continue reading →