A request on a Facebook comment for what the pass rates on ATP certificate issuances got me wondering. I hadn't previously been tracking this, just generally out of a perception that it was pretty stable and high generally. So, this morning, I grabbed that quick from the data I have.
ATP Pass Rates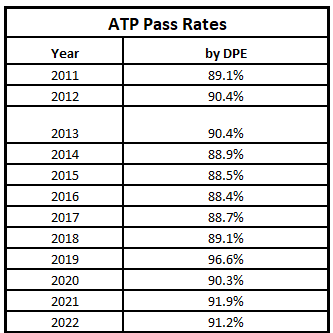 ATP pass rates have historically been pretty consistent, and pretty high compared to other certificate issuances. I think we all kind of expect that. We certainly hope that by the time someone is pursuing an ATP certificate their dedication to higher-level performance is increased and that the training they receive will set them up for passing test events.
While most of the ATP certificate issuances are taking place in airline training curriculum processes, many of the potential ATP certificate events are happening through AQP processes. This process alone helps ensure the passing of certification events. Along with this, many who might fail testing in this environment are washed out before they reach a certification event. These two systemic training safeguards help to drive higher-level passing percentages for ATP certificates.
There is an interesting anomalous spike in pass rate in 2019 for which I have no explanation. If anyone has any information that could attribute this rise to anything causal, I would be interested in hearing it. Outside of that year, the pass rates on ATP certificate issuances are pretty consistent through the years.
With that said, we see the table and chart here as what we have experienced as passing rates for ATP certification events conducted by designees in recent years.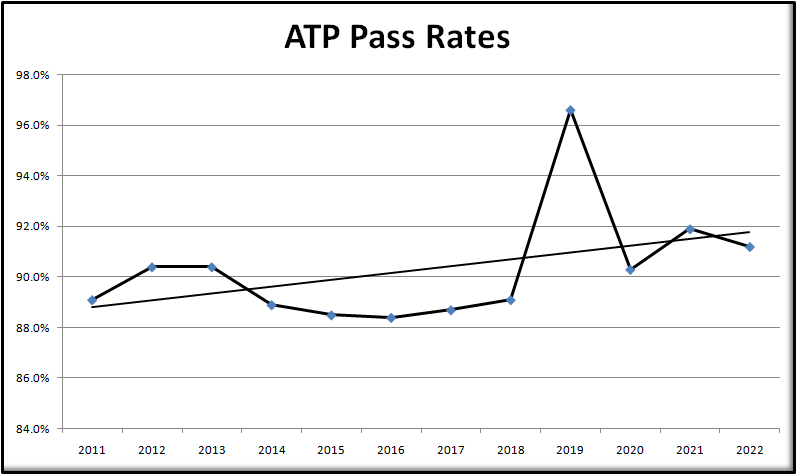 ATP Issuance Numbers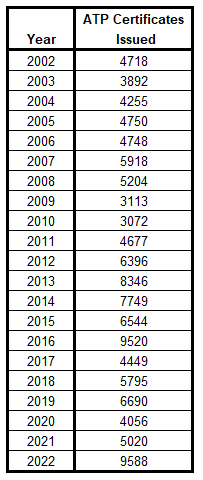 I have been posting over the past couple of years on a regular basis what our monthly ATP (multi-engine) certificate issuance numbers look like, but it's worth doing a year-end recap here also. The total ATP issuance numbers for 2022 are a marked increase from some of the previous years. This represents a major push that was made by many ATP-CTP providers and airlines as they worked hard to staff up for pilot shortages. It also makes up for a little backlog of people who got qualified during COVID-affected years but didn't complete certification.
The table here and the chart below as a yearly number show total ATP certificates issued, inclusive of multi- and single-engine ATP certificates. From the data I have, it appears that the multi-engine ATP certificates represent approximately 98% of the ATP certificates issued.
While I see the 2022 number as encouraging, I also think it is slightly anomalous in terms of what our industry can supply on an ongoing basis. The unique condition of more qualified individuals (those who had accomplished the requisite experience times) and the push, heavily by regional airlines, by those providing training for ATP candidates, gave us a huge number of ATP certification events in 2022 compared to many previous years.
We are already hearing of airlines canceling or delaying new hire classes due to an inability to support the large numbers of training largely due to a lack of instructor staff to do so. This shortage is likely to temper the ability to train higher, or potentially even equivalent, numbers of ATPs in subsequent years unless there are changes in the actual training process.
What does that mean?
Well, in my humble opinion, we will continue training and certifying as many ATPs as our system can support in the upcoming years. But, I think this will be a lower number than the 2022 year saw, yet higher than many of the historical years over the past couple of decades. We will likely be somewhere in the middle.