The aviation industry is without a doubt in need of pilots to serve in the front offices, airline flight decks, that transport people and goods throughout the United States and internationally. There was a certain downturn in 2020 and a big part of 2021, but it appears that the downturn is recovering. While aviation training in many lower-level certificate issuance efforts didn't change to a great deal, we did see 2020 indicate a large reduction in the number of ATP certificates issued. This was directly related to the fact that airlines stopped running hiring classes at which ATP CTP classes were completed and where pilots completed ATP certification.
As 2021 continued and hiring again ramped up, many of these airlines started running classes and certifying the next batches of ATP pilots. We can see this from the preliminary data that has been shared with some in the industry.
From the following table and chart, we can see that ATP certificates increased in 2021 from the low point in 2020 when COVID-19 shutdowns were most greatly affecting certification efforts (and service needs).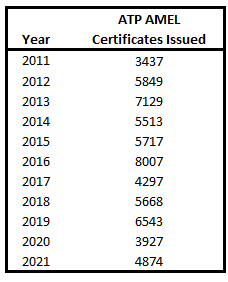 When we look at the 10-year table of certificates issued we still see the trends of heavy issuance years when the "1500 hour rule" took effect during 2015 and 2016, and then a more normalized flow of ATP production in 2017, 2018, and 2019 as active hiring took place and airlines trained their next generation.
The dropoff in 2020 was obvious and big, but it does appear that the trend of certification numbers is increasing as 2021 continues and airlines provide most of the training for and certification of the next generation ATP applicants.
This trend will need to continue to serve the needs of the aviation transportation industry. The good news is that it appears the numbers are heading in a positive direction as we look at preliminary reporting of ATP certification numbers from 2021.