Ok, my wife says I am really a dork because I got excited when I saw that the 2018 FAA Airman Certificate Data was posted publicly. I told her that I couldn't be the only person who thought it was fun to look at that data, there had to be at least three or four more people just like me somewhere in the industry. She didn't disagree that it was probably limited to that few people.
But someone has to look at this data, and with a little contextualization, some of that data can be illustrative of trends in our aviation industry when it comes to the pilot community or our certification trends. The good news, I have been keeping a spreadsheet for this for years, update it with new data, and do it for you! So, with that said, here are a few highlights that I noted after a little data crunching.
When we look at the overall trend, I find it most broadly applicable to look at a few key metric points. These include overall numbers for things like the Private Pilot, Commercial Pilot, Instrument Rating, ATP Pilot, and CFI Certificates issued on a yearly basis. To help build a baseline for those numbers, the following graphics may be of interest.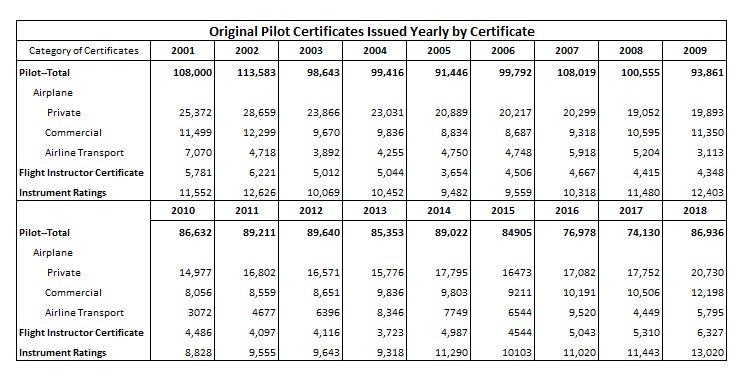 Continue reading